APG Security - A History

Updated: July 4, 2011
Special Update: March 7, 2010

Send comments or suggestions to:
Written by Roger B. Rowland
With acknowledgments to David VanSoest and Rick Bancroft.
---
On August 2, 2000 the deal was closed. A history spanning almost four decades was coming to an end. It had been a ride of twenty-one and a half years for Tony Pisani and his family. But, the story does not begin with Tony.
The Jesse Holly Era
American Patrol and Guard Company as it was originally called, came into existence in 1960. Jesse Holly acquired the business in 1965. Mr. Holly was able to purchase the company by making a deal with the IRS. This was just ahead one of many growth booms of Denver. Back then the employees were called night watchman or guards. Also in 1965, Jesse started utilizing the services of Henry Keenan as an outside accountant. That was the beginning of a vendor relationship that would last over thirty years and take some unusual twists along the way. The company slowly grew over the next seven years. As the company got bigger Jesse tired from the demanding business.
In 1972 Mr. Holly sold his business to Ken Harmon and his partner Shirley Keehn. Ken was retired from the US Marine Corps. That partnership would later turn into Ken and Shirley Harmon. With few resources and big ideas, Ken and Shirley moved the company into the Silco Building. The Silco Building is located on 56th Avenue, just east of Interstate 25. At that time, the highway was four lanes across. Ken and Shirley occupied a tiny two room office in the building.
Later the office would be moved across the hall. After APG moved across the hall, Dennis Woodruff moved into the office that Ken and Shirley had occupied. Dennis was a CPA and would become APG's auditor beginning in 1984. That relationship would last over fifteen years. Eventually, APG moved up a floor to the fifth floor in the Silco building. The company continued to operate but did not really grow. In 1979, Ken and Shirley had enough and decided to sell the business.
Tony Purchases American Patrol
Tony Pisani received an BBA Degree and an MBA from Pace University. He had also served in the Army in Vietnam. Tony gained experience as a financial analyst with Pepsico in New York. He then became a senior financial analyst with ITT, also in New York. Later he became Vice President, Controller, and Corporate Accounting Manager for ITT Aetna in Denver. Tony and his wife Patty liked Colorado. ITT wanted to move Tony again. Tony had already been in three cities with ITT. With young children, Tony and his wife Patty did not want to move again. Tony declined and took a severance package.
With Ken and Shirley looking for a way out, the door was opened. Tony saw the opportunity and acquired the business from Ken and Shirley. Tony started with a handful of clients and twenty-three employees. Tony decided to incorporate the business. That occurred in May 1979. Tony began to grow the business. Asamera Oil was a large account on the horizon. Later this account would become Colorado Refining. This would be an account that would last over twenty plus years. The company earned an annual revenue of $280,000 the first year Tony owned the business.
About a year later, Tony managed to convince one of his former employees at ITT to come into the business. Charles Marshall joined APG in August 1980. Chuck became the Vice President of Finance and also obtained a portion of the company stock.
The Denver economy continued in one of it's booms. There were many companies that needed security guard services. The industry was fragmented and very primitive. Tony did not have a security background, but he did have strong finance acumen. That was a major missing ingredient in the security industry. APG was able to respond to client needs and Tony started to set trends.
The company was getting too big for Mr. Keenan to continue handling payroll services. The payroll service was changed to Automatic Data Processing. Mr. Keenan continued to provide the monthly accounting and tax services.
The First Acquisition
APG made it's first acquisition in September, 1983 with the purchase of Greystone Security in a foreclosure sale. Security West was acquired one month later. I came on board with Tony in 1983 from the Security West acquisition. At that time there were about 175 employees at American Patrol. Tony had to look for new office space. New office staff were coming on board from the acquisitions. Tony arranged space at Montbello Campus IV in exchange for security services at the northeast Denver office building.
The company already had it's first desk top computer which was located in Mr. Marshall's office. The computer was used for scheduling and time keeping. Although the program was custom designed, it was based on a structure Tony had created manually. Tag boards or grease boards were not an option. The computer program used dBase and was written by Bill French. Bill was an independent computer programmer. Later, Ashton Tate would acquire dBase and Bill would move into that organization.
By 1984 the company had completed several acquisitions and had over 350 employees. Tony had built an impressive list of clients. In 1984, a new banking relationship was started. The first contact with IntraWest Bank of Northglenn was Bere Neas. In 1987 Nancy Lee would become the bank officer assigned to American Patrol. The banking relationship would become a critical relationship for financing many of the future acquisitions by American Patrol.
"The Merger"
In 1985, the ownership of another company called All Secure was looking for a buyer. It was a company that had about 250 employees. It had offices in Denver, Colorado Springs, and Loveland. It also had a major client in Hewlett Packard. Larry Jackson and Mike Elijah were the client representatives for HP. Later on, Doug Buffington took over for Mike as the Hewlett Packard representative in Loveland. Gary Harris, the owner of All Secure wanted out of the business. All Secure had a couple of talented executives that wanted to stay in the business. They were Robert Beckby and David VanSoest. They also had a very good scheduler named Erin Stitt.
Tony bought All Secure. Robert Beckby became the Vice President of Operations of American Patrol. David VanSoest became the Vice President of Marketing and Sales. The acquisition was awkward for Bob and David. In recognition of their contribution, Mr. Pisani called it as a merger. David came up with a new name and logo for the "merged" company. The new name was APG Security. APG Security became the largest security agency in Colorado with over 10,000 weekly hours of service. David started selling security "officer" and patrol services. Bob brought new meaning to the change from security guards to security officers. Training was taken to a higher level.
Time keeping was becoming an issue for Chuck. Later, I assumed the roll of comptroller with my primary duties of time keeping and payroll processing. Later ADP would change from a manual payroll transmittal to computer. In 1987, APG
opened it's first branch outside of Colorado. The new branch was in Albuquerque and built from scratch. A former client, Julie Hall had been working in the Denver office. Julie Hall was moved from Colorado to New Mexico and opened the branch. Julie's new husband, Roger Hall became the first APG security officer in New Mexico.
By 1992, APG Security had grown significantly and had well over 1,000 employees. Computers gained more of a presence at APG. Computers were located in each of the branches. The internal scheduling system evolved further, with both branch and central systems. The data communications was accomplished through dial-up modems allowing the central data to be updated from the branches. The company was getting bigger.

US West Regional Contract Award
US West had become an APG client in 1988. APG also acquired a company in Texas and opened a new branch in Dallas. In 1990, APG attained a new stage in it's evolution when it was awarded the US West regional contract. That paved the way for new branches in Phoenix, Salt Lake City, Seattle, and Portland. A US West division was created. Sharon Smith came on board to direct the division for APG.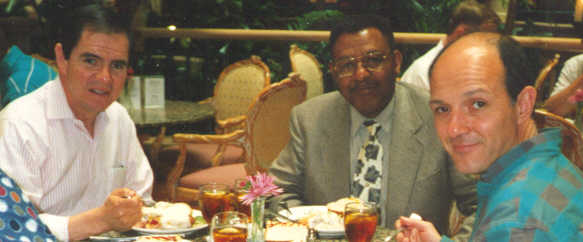 Pictured from left to right: Richard Rivera, Henry Keenan, and Tony Pisani.
Tony, with the help of Richard Rivera and Henry Keenan created an affiliated company called Commercial Security Services. That company picked up the US West Operations in Minneapolis, Des Moines, Omaha, and locations in North and South Dakota. Ric Rivera had been the owner of Commercial Guard.That was a company that Tony had recently acquired. Pat Stuart was also with Commercial guard and was moved into the APG Finance department.
Because of the increase in business and the need for greater efficiency, the APG computer based systems underwent major changes during this time. The billing system, also developed by Bill French, had a received a very important enhancement. The system was changed to automatically create a majority of customer invoices. This change saved a huge amount of time and labor. The scheduling system was rewritten into a newer version of "Clipper" to add usability features and improve compatibility with newer modems.
Chuck Retires
In December, 1992 Chuck Marshall retired. A buyout of his stock was arranged. I assumed the leadership role in the finance department. Later, I received the title of Vice President of Finance. In 1993, with Tony's blessing, Bob Beckby created the "PACT Program." PACT was an acronym for "Professional Advancement and Certification Training."
In 1993, the contract with US West ended. A competitor had significantly under priced the billing rates. However, within a year, most of the US West locations in Denver, Albuquerque, and Phoenix were returned to APG with higher billing rates. Quality services became more important than low price.
The bank was acquired several times and finally merged with Wells Fargo Bank. Nancy acquired a new husband along the way and became Nancy Broome.
The New Building
The Montbello office facility was becoming obsolete for APG. APG originally occupied a suite on the west end of the first floor. Later, APG moved to the east end of the building. Additional space was rented for expansion. Towards the end, APG occupied most of the east wing, including two offices dedicated to file storage. Tony went on a building search. He found a vacant building on the corner of Mississippi and Galena, just one block west of Havana. The building had been occupied by: the "Association of Operating Room Nurses." Tony is a bargain hunter if there ever was one. The building was acquired for about $210,000.00. Tony's daughter Julie supervised all of the painting and remodeling of the building. The company moved in March of 1994.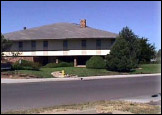 The building was bigger than what APG required. Two tenants also moved in and there was still room left over. The two tenants were Phil Hopkins and Dan Rooney. Both are attorneys with Phil specializing in leasing and collections. Dan specializing probate and corporations. There was a tremendous advantage of having both of them in the building. Dan completed the great majority of legal work on acquisitions made by APG over the years. Phil had done some collection work for APG. Phil moved out a couple years later. Dan is still a tenant in the building.
At the end of 1994, Tony acquired three companies in Tulsa. The new acquisitions resulted in a new Tulsa branch. In 1995, the company made a dramatic improvement in it's workers compensation "experience modification" factor. This was done by APG creating a cost containment program for workers compensation. The cornerstone of that program was the preparation and writing of an "Environmental Health and Safety Program." The experience modification factor was reduced by a third. The bulk of this work was completed by Jennifer Ancona.
An Era Ends
In December of 1995 and after ten years of service Bob Beckby left the company. David VanSoest left a few months later in May, 1996. That left Tony with big voids to fill. It was around this time the concept of the "Six Hats" was developed. This was a metaphor that was used to describe the six major functions or processes within the company. It was a response to Hewlett Packard's quality improvement process. In May, 1997 APG adopted a 401K program in which all employees could participate. Late in 1999, the company employer match portion was increased to an industry leading fifty percent.
About three years ago, APG became a partner in the "Transnational Security Group." This was a group of nine security companies that originally formed a strategic alliance for marketing. It would provide an alternative to national companies. A later byproduct of the group would be the adoption of the concept of the use of best practices. Transnational made it's debut at the ASIS convention in Dallas, Texas.
Tony left the operations position vacant until Joe Gargan came on board in March of 1998. Joe had been the client representative at one of APG's major accounts Merrill Lynch. In September, 1998 a new site managers management guide was prepared. At Tony's request, Joe created the SOAB committee. The "Security Officers Advisory Board" was composed of Mr. Gargan, local area managers, and other operations personnel. Later on, the name was changed to SOAP. With the word "Panel" replacing "Board." The change seemed the perfect acronym as the committee was cleaning up operational processes and issues. One year later the "Site Manager's Training Program" was written by Steve Lindeman. Another new innovation was the creation of Security Officer Qualification Standards or "SOQS." The SOQS program was put together by Rick Russell. Rick worked for APG as a Training Manager out of Vancouver, Washington.
Also in 1998, Henry Keenan decided to change and move his business. Henry had continued to prepare the federal corporate tax returns for APG until this time. The accounting and financial reporting had been moved in house several years before. Henry decided that he only wanted to do personal tax returns. Henry introduced APG Security to Roy Gentry. Roy was a CPA and picked up the commercial portion of Henry's business. Roy already some significant clients of his own.
Innovating with Computers
Computer hardware was also being enhanced. In late 1997, APG established it's first computer local area network. In the past, data files were exchanged using the "Adidas Net" method. That was the method of running computer diskettes between computers. The network eliminated that need to use diskettes on the corporate level. Also added was the capability to fax from the PCs, share files and programs among several users, sharing a high speed and quality laser printer among all users, and email. The network was accessible by company executives when they were away from the office.
In early 1999, the decision was made to replace APG's old DOS based scheduling system with a new system. After evaluating a number of off the shelf alternatives and talking with a few developers about creating a new system, the decision was made to work with MH Software in developing an Internet based scheduling system. It was the first in the United States for any security company. After six months of development, this system was implemented in early 2000. It eliminated quite a bit of duplicate entries between the branch offices and the corporate office. With this new system, APG added a web page on the Internet, e-mail throughout the company using the APG Security domain name, and a unified computerized call-in system tied directly to the new scheduling system. Also started was the process of updating and integrating the invoicing system with the new scheduling system. All these improvements were supervised and implemented by Rick Bancroft, APG's Director of Management Information Systems. Rick originally came to APG in 1982 and had started in the security operations side of the business.
Hewlett Packard Expands APG Contract
In the second half of 1999, Hewlett-Packard began a search to consolidate its current security services. HP was using fourteen providers for twenty-seven locations. HP wanted to reduce the number of vendors into a small group. After six months of work, HP selected APG Security and one other vendor to be their approved security vendors for all of their major locations. With the new business APG opened a new offices in Boise, Idaho and Corvallis, Oregon. In anticipation of adding the HP location in San Diego, California, APG acquired a San Diego company. That added another new APG branch office.

All Good Things Come to an End
Tony had been approached several times to sell his business during the past several years. It was becoming more difficult and demanding to run the business. In June, 2000 Tony was approached by Pinkerton Security. Pinkerton is a wholly owned subsidiary of Securitas. Securitas is a company headquartered in Sweden and was aggressively pursuing acquisitions. It was an offer that Tony could not ignore.
Due diligence began in the middle of July. Tony was bound by a nondisclosure agreement. Only people that had a need to know, were informed of the proposed purchase. Ironically, the only leaks came from the Pinkerton side. The due diligence process was extensive and took a period of just over two weeks to complete. The sale agreement was signed on August 2, 2000 and made effective July 31, 2000. Pinkerton purchased the company for $8,600,000.00 and assumed all of the debt. The APG operation was absorbed into the existing Pinkerton organization.

Special Update: March 7, 2010
Anthony (Tony) J. Pisani passed away in November, 2007. Charles (Chuck) G. Marshall passed away in October, 2006. Joe Gargan passed away in December, 2009.

Copyright © 2011 by Roger B. Rowland.
All rights reserved.