| | |
| --- | --- |
| | Class of 1973 |
---
John Wilson
Born: September, 1955

Died: August 27, 2006
History, as told by John in 2003 for the reunion book.
Occupation: Background Investigations Coordinator
Hobbies: My main hobbies of interest are listening to Shania Twain, working and playing on my computer, photography - especially of ghost towns, old mining camps and mountain scenery, listening to Shania Twain, camping in the Colorado outdoors, traveling when we can and spending time in our hot tub relaxing my cares away (did I mention Shania? :-).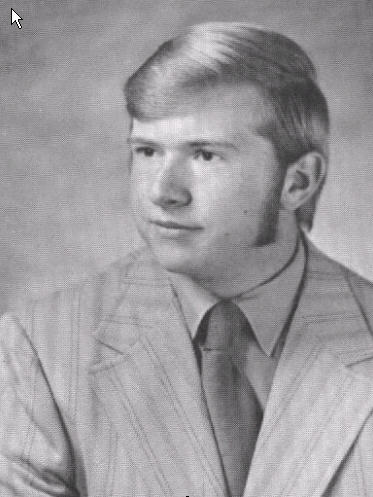 OK, here it goes. Char and I make our home in Littleton, Colorado & have been here now since 1981. We have 4 children - 1 in Florida, 2 in Cheyenne, Wyoming and 1 here in Denver and have 5 grand children, along with a ferocious (yea, right) dog named Luke - a German Shepherd mix.
I am still with the State of Colorado, Department of Human Services over on the Ft Logan Campus as I have been for the past 27 years (since June of 76). I am the Background Investigations Unit Coordinator for the northern half of the state. We run the criminal background checks through the Colorado Bureau of Investigation and Federal Bureau of Investigation and oversee the drug screening and finger printing processes for State employee's working for CDHS statewide. In addition, we also run the criminal background checks for the State Division of Child Care statewide who licenses children's Daycare Centers and businesses as well as Foster Care homes and Adoption Families. I also work with the Civil Rights and Risk Management Units statewide.
A little over a year ago, May 2002, I was diagnosed with Esophageal Cancer and spent a little over 2 months in the hospital after under going two very major surgeries to remove most of my esophagus and all of the lymph nodes surrounding the areas of the esophagus. Then, they moved my stomach from my abdomen up in to my chest cavity where it now shares space with my right lung. My "plumbing" was totally re-routed throughout! I am told that on a couple of occasions, I was not expected to pull through from these devastating surgeries and resulting infections, including several different types of bacterial and yeast infections in my open chest cavity, a severe case of pneumonia and a collapsed right lung. I am also told that even though the prognosis for Esophageal Cancer patients is not good at all, that I am as close to being "completely cured" of cancer as there is due to them catching this deadly disease as quickly as they did. They tell me that the cancer did not spread at all to any other organs or tissues surrounding the esophagus. They do not expect this to come back on me at all ! Although I will never be the same again physically and emotionally, and will always have physical and eating limitations, I am very blessed to be alive and writing this little piece of information about myself !!
Epilogue by Roger Rowland:
John continued to have additional surgeries with his pain continuing. One of the surgeries resulted in the loss of part of a rib. He also had breathing difficulties. He was afflicted with Empyema which resulted in another hospitalizaion. Cancer subsequently appeared in 2005. After being married for twenty-four years, John was divorced in 2005. John was also told that his sister had been diagnosed with cancer. In 2006 John continued to be bothered by constant physical pain. This was compounded by the emotional pain from his divorce. John showed the signs of spiraling depressession and in his own words was "very bitter." Sadly, it was reported to me, that John ended his own life in August, 2006.